My artwork,

Forgotten Sky

, was exhibited at the WE CONTEMPORARY CATALOG & ART SHOW, presented in Rome, Italy, by MUSA International. This is a prestigious exhibition, held to coincide with the publication of

WE CONTEMPORARY

, an annual international art volume. I wish to express my sincere gratitude for the tremendous honor of this incredible opportunity.
WE CONTEMPORARY

, is a annual prestigious international art volume containing the works of worldwide contemporary artists. In circulation for over 7 years, the catalog favors the maximum visibility to the artist in the panorama of contemporary art, thanks to the collaboration with organizations, foundations and art associations from different countries.

The catalog have had the success for 7 years

, was officially presented in the cities like:

Milan

,

Rome

,

Paris

,

Kyiv

,

Palermo

,

Prague

,

Vienna

.
For 5 last years the catalog has also the collateral art show

WE CONTEMPORARY ART SHOW

that is very popular and appreciated by the artists and the visitors.
The catalog 2022 will be presented in Rome and has own collateral art show November 4-6, 2022.
Today's children can only read the emotions of others through a mask. They try to communicate based on what they feel when they look into the eyes of the other person, and the feeling that comes from the other person's entire body. This work was created with the hope that we will soon be able to see the smiling faces of children under a blue sky, knowing that the blue sky is probably already a memory.
現代の子供たちはマスク越しに相手の感情を読み取るしかありません。相手の目を見て感じることや、相手の体全体から伝わって来るフィーリング、それらを基にコミュニケーションを試みます。この作品は、早く青空の元で子供たちの笑顔が見られますようにという祈りを込めて制作されました。その青空はもう思い出の彼方にあるのだろうと知りながら。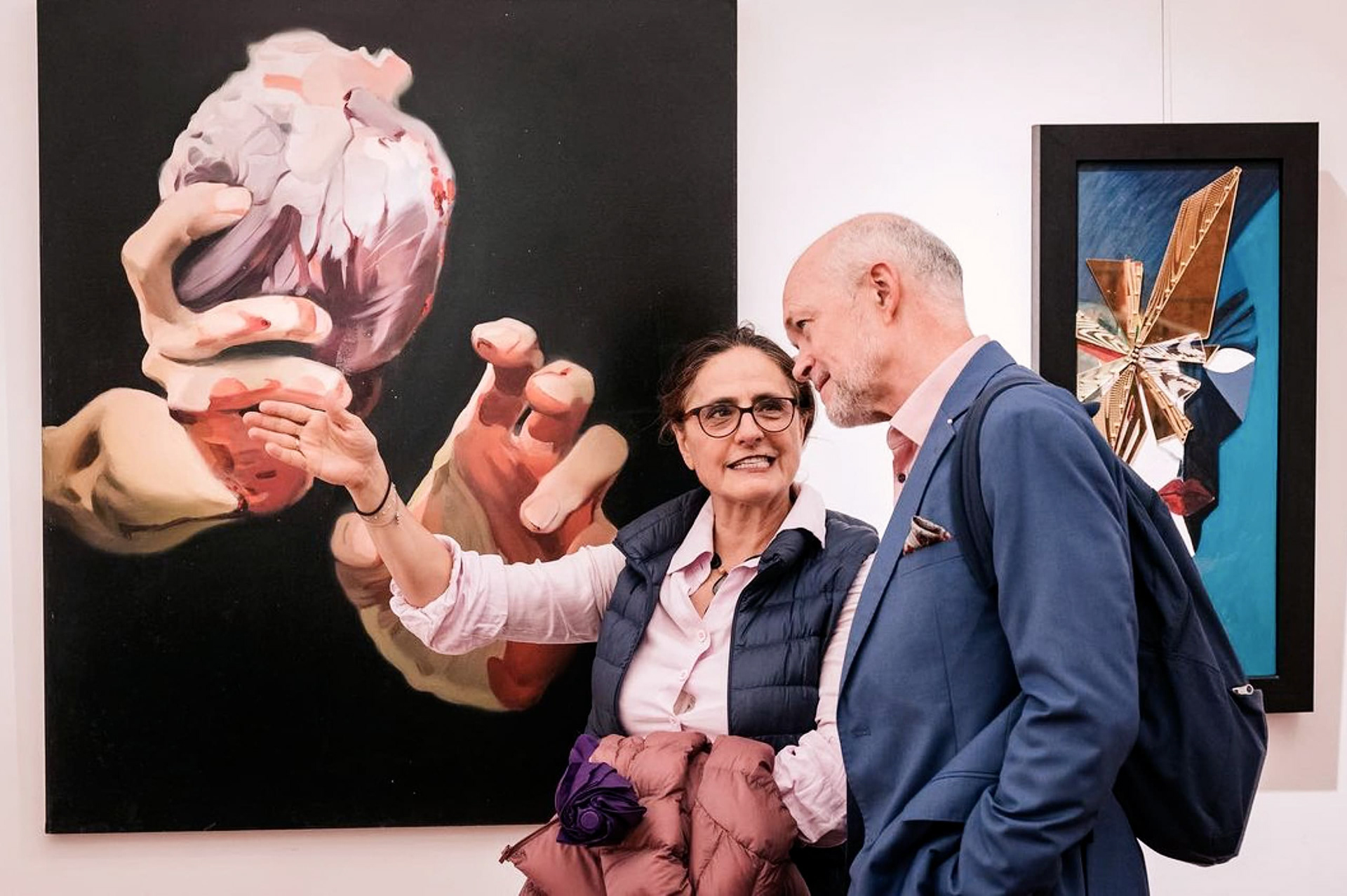 Palazzo Velli

is an interdisciplinary and multifunctional exhibition space in the enchanting setting of the Trastevere district.
Located in the heart of Rome,

Palazzo Velli Expo

is a historic Roman residence built at the end of the fourteenth century. In 1970 the restoration work, carried out in respect of materials, techniques and colors of the fifteenth century, has allowed Palazzo Velli to characterize itself as a structure full of historical and artistic elements, with at the same time all the facilities and the essential technological aspects. to define it today as a multifunctional space ideal for hosting events such as:

exhibitions

,

conferences

,

company presentations

and

exclusive advertising operations

.
In tune with what happens in the major European capitals, the Palace has been conceived as a cultural space full of

historical and artistic suggestions

. A center in continuous evolution and growth that offers visitors refined projects of young and established artists and, for customers, technological standards of excellence suitable for the realization of any type of event, including commercial. From

art exhibitions to film festivals

, from

theater to photography

, from

music to the presentation of books

, Palazzo Velli is today a unique reality representative of the urban reality of the center of Trastevere.