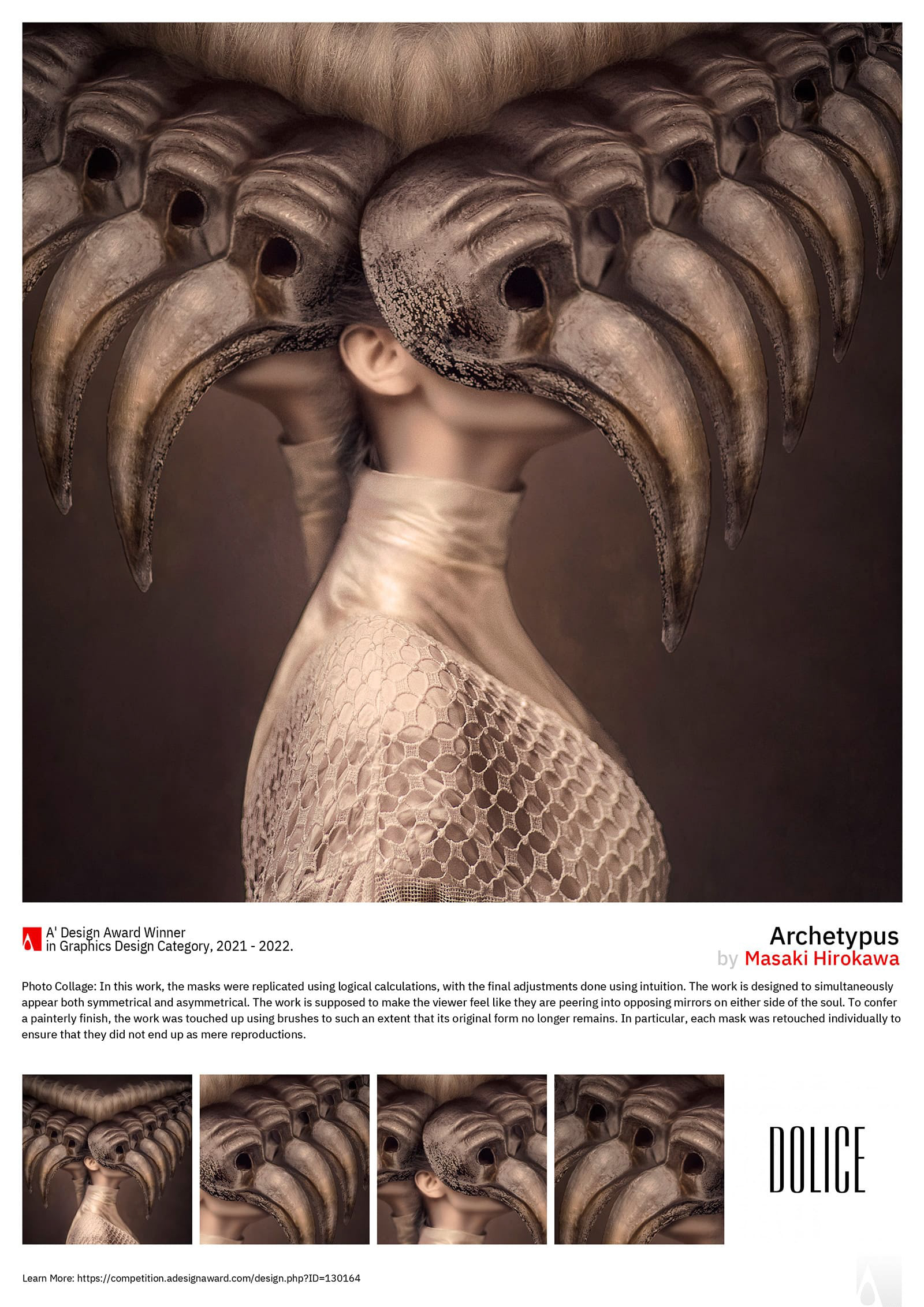 The theme of this work is "A Return to Archetypes and Repetition." The work manifests the fundamental desires of humanity. Repeating history, sentiments, countries, and families. These are all integrated and expressed in this work.
この作品のテーマは「原型と反復への回帰」である。人類の根源的な欲求がそこに現れている。繰り返される歴史、思想、国家、家族。それらをすべて統合し表現した。
The research focuses on visual expression; its aim is to enrich the mind. Enrichment here does not only refer to wealth, but also includes factors such as peace of mind. The work focuses more on visual impact and providing a psychological impression than on making the viewer feel calm. Unlike other works, 90% of this is done through inspiration, and this makes it extremely difficult to put into words. (This inspiration is the type brought about by the external environment. In psychology, the source of this inspiration is the superego, and in the realm of spirituality, the source is spirits.) Data was collected using psychology dictionaries and other resources, with most of the data pertaining to psychology. Expressing this data in the work resulted in it impacting the viewers by moving them emotionally. The work comprehensively expresses the core systems through which human existence thrives, including business, society, sentiments, and culture. It was one of the works that drew the strongest reactions from the viewers. The reasons for this are not entirely clear, but it most likely has something to do with how the work affects the subconscious mind.
研究の種類は視覚表現で、人の心を豊かにすることを目的としている。豊かさとは富のみならず、心の平安なども含む。この作品では鑑賞者に心の平安と言うより、視覚的なインパクトと心理に与える感動を目的としており、その方法は他の作品とは異なり9割以上がインスピレーションに基づくため、言語化が極めて難しい(インスピレーションは外的環境から齎されるもので、心理学の世界では超自我、スピリチュアルな世界では精霊などを起源とする)。主に人の心理について心理学辞典やシュルレアリスムアート作品を用いてデータ収集を行い表現した結果、鑑賞者からはインパクトという意味での感動が返って来た。この作品では、ビジネス、社会、思想、文化など、人間存在が繁栄する基幹システムを包括して表現している。鑑賞者のリアクションが最も多かった作品の一つで、その理由については明確ではないが、おそらく人の深層心理に迫ったものと思われる。
The Creative / Research Challenge

: 
To confer a painterly finish, the work was touched up using brushes to such an extent that its original form no longer remains. In particular, each mask was retouched individually to ensure that they did not end up as mere reproductions. Beyond the boundary between what is beautiful and what is ugly is a manifestation of a spirit that transcends aesthetics.
この作品は絵画的な仕上がりにするために、元型を留めないほど丹念にブラシを施している。特にマスクは、単なる複製にならないよう、一枚一枚に筆を入れている。美しいものと醜いものとの境界線を目指した先にあるのは、美的感覚を超えた心の顕れである。
Operation / Flow / Interaction

: 
In this work, the masks were replicated using logical calculations, with the final adjustments done using intuition. The work is designed to simultaneously appear both symmetrical and asymmetrical. The work is supposed to make the viewer feel like they are peering into opposing mirrors on either side of the soul.
この作品では、論理的な計算に基づき仮面を複製し、残りの違和感を感覚で補っている。この作品は、左右非対称にも左右対称にも見えるようにデザインされている。合わせ鏡を覗き込むイメージである。
Unique Properties / Project Description

: 
A collage composed of repeated reproductions of images of the same person. Each mask was damaged and repaired in a unique way to appear distinct from the others.
同一人物の画像を繰り返し複製してコラージュした。仮面が一つ一つ違って見えるように、それぞれに独自の修復と傷を施している。
Production Realization Technology

(

and Materials

): 
The materials were first edited in Adobe Lightroom, then made into a collage using Adobe Photoshop. Next, a glow was added and corrections were made before the photos were composed into a single image. This image was retouched again from scratch using Adobe Photoshop. Although the size of the image was only slightly greater than an A0 piece of paper, the use of over 200 layers resulted in a file size of 20 GB. Most of the work was done using brushes, and all the corrections were done with extreme precision. The masks in the work were damaged and repaired to evoke and emphasize a nostalgic atmosphere.
まずAdobe Lightroomで素材を加工し、Adobe Photoshopでコラージュを行った。次に光彩表現の付与と補正を行い、写真を完成させる。その後、それを一枚の画像に統合し、再び Adobe Photoshopで最初からレタッチしている。寸法は A0より少し大きい程度だが、200枚以上のレイヤーを重ねているため、総ファイルサイズは 20GBに及んだ。殆どの作業はブラシで行われており、補正に関しては非常に繊細に行われている。今回の作品では、ノスタルジックな雰囲気を醸し出すためにマスクを破損・修復し、雰囲気を強調している。